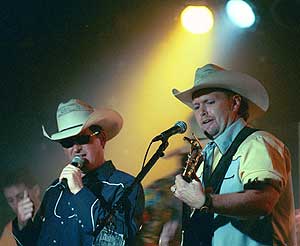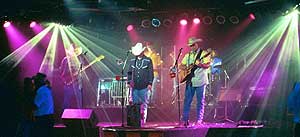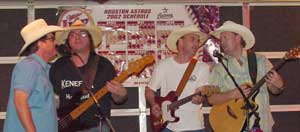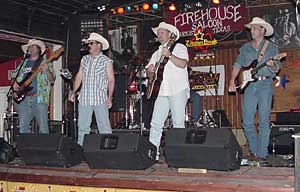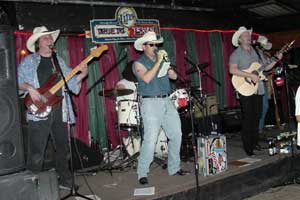 Kenefick History-the Band
In 1999, after several years of working in corporate America, and traveling around the world, Marty Wells, a fourth generation Texas musician, decided it was time to get back to his cultural roots.
He founded a Texas cookoff team (Planet Texas) and struck up a musical friendship with David Fahl, a co-worker at a Houston energy trading company. This friendship ultimately led to the country band "Kenefick". (Kenefick is named after the very small East Texas town of the same name in Liberty County that Marty's family resides in. Marty's late father, Martin Wells Sr., is a former Mayor of Kenefick.
Marty and David got together one night to play guitar, and enjoyed the experience enough to work on a few tunes and start playing a few open mic nights around Houston. After a few weeks, Quintin Watts joined up. Quintin is also originally from Liberty County. He didn't play an instrument, but had an awesome voice, and was an excellent showman. Marty and Quintin had cut their teeth together entertaining folks at BBQ and Chili Cookoffs for their cookoff team, "Planet Texas". Their showmanship skills won many awards for Planet Texas, including the CASI Terlingua International Chili Championship. So it was a natural fit for Quintin to join up with Marty. At first, they tried to work Quintin in to playing bass, but he ended up playing drums. This all happened within a matter of weeks. Although Quintin was pretty much limited to playing with one arm, he was able to maintain enough of a tempo that the band survived for a month or so. Soon after, Glenn Byrd was invited to join the band as a lead guitar player. Next was a permanent bass player. Several were auditioned. The best one, Steve Shirk, played with the band for a while, but couldn't really live with the inexperienced, "one armed" drummer. Ultimately, Kenefick settled on a "real" drummer in Keith Quinones. That was it! Steve was happy because we had a real drummer. David and Glenn were complimenting each other on lead acoustic and lead electric. Marty was playing some strong acoustic rhythm guitar. Quintin was free to move around and focus on showmanship, and Marty and Quintin were creating some fine vocal combinations. The band started hosting Joe Parson's River Oaks Redneck Jam at Blancos every few weeks, and worked out from there to other venues around Houston.
Throughout 2000 and 2001, the members of the band wrote several songs that have been enthusiastically embraced by a growing following. In the spring of 2001, Marty decided it was time to record, but didn't know the first thing about it. He consulted with a friend of his, Roger Creager (Dualtone recording artist), about the process and how to get it done. Roger had heard Kenefick play, opening for him at the Planet Texas Cookoff Team tent at the Houston Livestock Show and Rodeo BBQ Cookoff. (Roger has played for Planet Texas every year for the past 5 years) Roger strongly encouraged Marty to contact Lloyd Maines to do the project.
Marty took Roger's advice, and after sending tapes of his original music to Lloyd Maines, was able to schedule some time in Cedar Creek Studio in Austin Texas with Lloyd and his protégé, Adam Odor. In late 2001, Kenefick went in to the historic Cedar Creek with Maines and Odor to cut the CD "Hard Road".
On the CD, of the 12 tracks (and one ghost track) 10 are original. One track, Maple On The Hill, written by Gussie Davis, is a very old bluegrass song that is in the public domain. It was popular as far back as the 1920's and Joe Parsons would sing it when he was in Europe with his brothers in arms during WWII. He now sings it at Blancos during his Redneck Jams as a sing along with the crowd. Kenefick recorded Joe singing with the crowd, and then faded in a real bluegrass version of the song on the CD. As a tribute to Joe for helping out so many local musicians, Kenefick invited others up to participate in the recording. The Tequila Cowboys, FCo, and Clay Farmer are some of the fine musicians making guest appearances on the track.
What was originally a ghost track, "Cows Y'all", was recorded on a whim and was not meant to be on the CD. However, it came out so good and funny, that Lloyd Maines suggested we include it as a ghost track. It's a parody on the Baha Men's "Who Let The Dogs Out". Quintin Watts wrote the lyrics. (On it's second printing, "Cows Y'all" was LISTED as the 13th track, and is no longer a ghost track.)
The rest of the CD is a good mix of different types of country and country rock music. You will hear influences from several parts of the spectrum. There are some Ray Price style shuffles, and some Eagles style country rock songs. There is a very mournful acoustic track with some strong dobro work from Lloyd Maines. Long Night In Galveston, is a long story song about a domestic tragedy. The CD is a very good listen because the songs are all catchy, melodious, and different. It's a very fresh sound for Texas Country Music.
"Hard Road" has become a favorite of the critics (both professional and
amateur), venues, Texas radio, and fans in general. Kenefick's live show has become one of the best in the country. The Houston Chronicle said "Call it traditional. Call it Hard Country. Call it Honky Tonk. Whatever the label, Kenefick is all about having a good time." BJ Weikert of Juke Box Boogie in South Carolina says "This is definitely the new Texas band to watch". David Pilot of Rockzilla World in Dallas says "Hard Road takes a listener on a musical odyssey though the things that make this country life so textured. There's some amazing song writing on display here.....these songs show a level of experience and a feel for the game that many established bands, both in Texas and Nashville, simply have not reached. "Katie Key of Best In Texas magazine says "These guys put on a hell of a show! If you ever get a chance to see them live, do it!". Boffo Big of Los Angeles says "Hell, if they'd play THIS kind of music out here on the Left Coast, I might put my cowboy boots back on!"
Kenefick now performs at venues all over Texas including The Hideout at Rodeo Houston in front of over 3,000 fans. They have also appeared on radio programs such as the KORA Back Porch Show at The Dixie Chicken in College Station by Corbin Maclain, and the K-Star morning show in Conroe, Texas